It was September 21, about 9 pm in the evening and something out of the ordinary happened for the Georgia Bulldogs. But let me back up for a second so you can get the full picture…
UGA fans have suffered a lot of heartaches over the years that has left most of us cynical and jaded. Do you remember the tipped pass to the 3-yard line as the clock expired? What about 2nd and 26 and busted coverage? And who could forget Watching Superman Jalen Hurts dismantle a defense to overcome a two-score deficit right at the end of the game? And let's not even talk about the fake punt. These are just from the not so distant past. Sometimes it feels like Georgia has lost on more hail-mary passes than any other team in football.
Just brutal.
Going into the game against Notre Dame, Georgia was favored by double digits. No one was giving the Irishmen a shot. But, lo and behold, they hung around, played tough and had the ball with a chance to drive and score and win with no time on the clock.
Every Georgia fan was gearing up for another heartbreak. I think I got 7 "Here we go," text messages.
But this time something else happened. Something was different.
With the game on the line and Notre Dame driving, Nolan Smith (DE) broke free on 4th down and sent Ian Book running for his life. And this time the prayer pass would eventually hit the turf and the Dawgs would walk out with a victory. It was the best win in all of college football at that point in the year.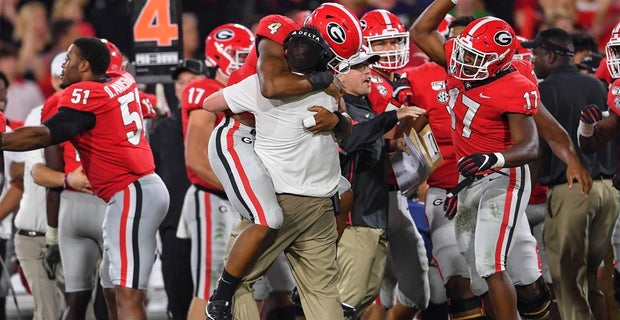 Since then, Georgia has played in several close games and in each, there were pivotal moments where the game and the season hung in the balance.
In Gainsville, Georgia needed a first down on third and long to ice the game. Fromm threw a beautiful pass and Eli Wolf went up the ladder to make a great catch.
Georgia went to Auburn with the deck stacked against them. Malzahn had never lost after a bye week and Kirby had never won in an SEC West stadium. The Georgia defense was absurd shutting down Auburn for the first three quarters. Jake Fromm never played great in the game, but he hit three touchdown passes in crucial moments. In the fourth quarter, Stevenson dropped an interception in the end zone or this game might have been a blowout. Nevertheless, Auburn is a proud football team and was not going to go down without a fight. They hit two quick touchdown passes and the momentum had swung wildly in their favor. For whatever reason, Georgia switched to a soft zone on defense and was giving Auburn a lot. But this time, it wasn't the offense who did anything. On the contrary, they kept giving the ball back to Auburn. At the end of the game, with the Tigers driving, big Travon Walker broke free and dropped Bo Nix for a sack to end whatever comeback hopes the Tigers had.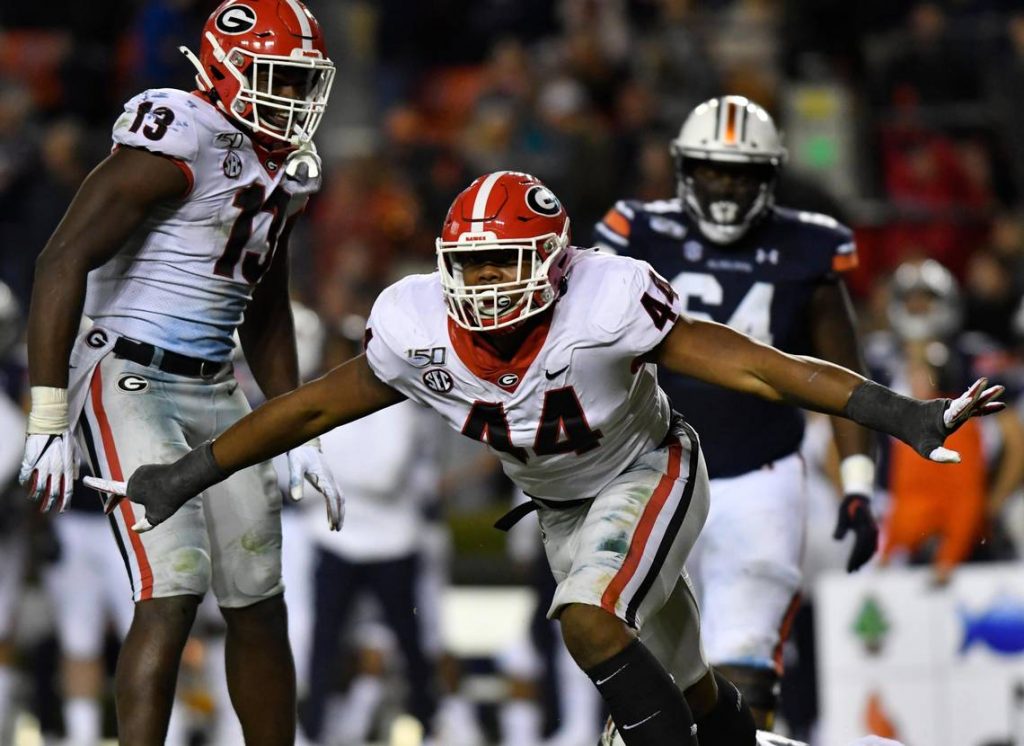 A week later, the offense could not find the end zone against Texas A&M. Blankenship was 4 for 4 on field goals, two of which were approaching 50 yarders. The defense was stout, giving up -1 rushing yards on the day. (Excuse me…) But again, the Aggies had the momentum in the fourth and were looking to win the game. Georgia got the ball back with about 4 minutes and really needed a couple of first downs. This time, it was D'andre Swift who went off and carried the team in the last few minutes and Georgia won another close one.
I get it, the offense has left everyone a little worried. Even if we keep LSU from scoring a ton of points, will we even be able to score a few to win the game?
If you have been paying attention over the last few weeks I think you might realize your frustration is not over what UGA has not done on offense but rather on what it could be doing. In all of its close games since USCjr, this offense has been on the brink of blowing teams out. There were several missed plays that would have made Florida, Auburn, and A&M look a lot different. We have seen Georgia make those plays. We have seen Jake Fromm make those plays. It is not fair to assume this Georgia offense will totally reinvent itself in a week but it just doesn't have to. It just has to become what it has been so close to being for the last few weeks.
But, at some point, someone will need to make a play.
This Georgia Bulldogs team can do that. We have seen it all year. There is no reason to believe we won't see it in Mercedes-Benz Stadium against LSU.